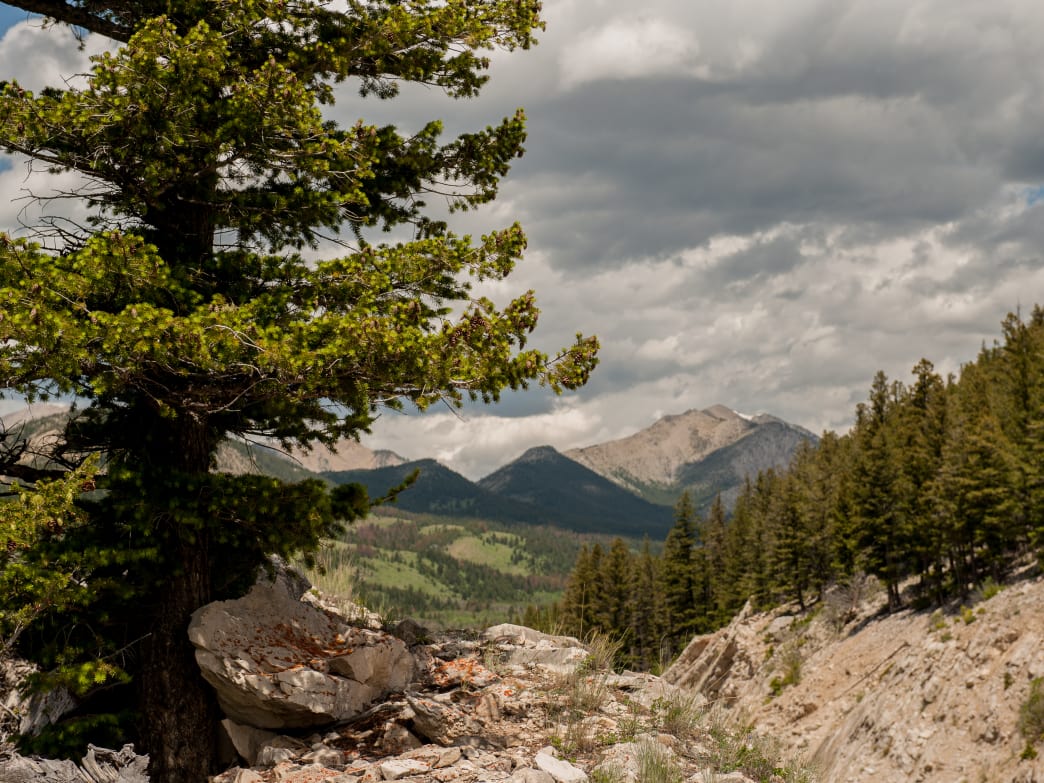 Imagine a land where the towering Rocky Mountains meet the sweeping horizon of the Great Plains. Where vibrant modern life is interwoven with a rugged, storied history, and where seemingly endless recreational opportunities are balanced by moments of historical and cultural exploration. Tucked between Yellowstone National Park to the south and Glacier National Park to the northwest, Central Montana is an intersection of authentic Western culture, remarkable scenery, and rich history. Central Montana is an exceptional destination for outdoor recreation, worthy of a spot on anyone's travel checklist. Here are a few of our favorite ways to explore the region.
Explore Unique, Charming Towns
Much of Central Montana is rugged, open country, which means the small communities throughout the region have developed their own unique charms. Lewistown, located at the very center of the state, has a rich gold mining heritage and is now a favorite destination for hunters, anglers and outdoors-folk. Choteau, called the "Front Porch of the Rockies," is also home to one of the world's top paleontology sites, which has been instrumental in providing insight about dinosaurs from the Cretaceous Period. Fort Benton, known as the "Birthplace of Montana," is located on the Missouri River. Steamboats would bring travelers there from St. Louis, and it served as a gateway to the northwestern U.S. and Canada. Whichever town you choose to explore during your visit, take in a variety of local cafes, restaurants and Western bars.
The Bob Marshall Wilderness
"The Bob," as locals call it, is a wilderness complex comprised of more than 1 million acres of protected wilderness land. Managed by the U.S. Forest Service, the Bob Marshall Wilderness is a bucket-list destination for hikers, backpackers, horseback riders, hunters and fly anglers. The complex, easily accessible from several points in Central Montana, follows the Continental Divide for 60 miles, encompassing terrain from conifer forests to craggy, high peaks. Do a bit of research and head in on a hike, join Dropstone Outfitting for a stock-assisted guided hike, or connect with one of the area's many outfitters for a memorable mule and horse-packing trip into some of the wildest protected terrain in the lower 48 states.
World-Class Fly Fishing
Central Montana is a veritable paradise for those who love fly fishing. The region's rivers flow through terrain unlike any found elsewhere in the state, dropping from high in the mountains to meander through the beginning of the Great Plains and beyond. These rivers, including the storied Missouri, Smith, Dearborn, Teton and Sun, are often quite remote and serve as home to significant numbers of rainbow and brown trout, as well as native whitefish and other species. Many outfitting services dot the region, allowing visiting anglers to book a guide who truly knows and understands the most productive locations — and ways — to fish at any given time of the year.
Incredible Road and Mountain Biking
Thanks to the varied terrain and often low-traffic roads, Central Montana is perfect for road cycling. Winding roads drop from the Rocky Mountains, leveling out into seemingly endless straight stretches that are an excellent option for logging your endurance miles. Mountain bikers will also find plenty of trails to entertain themselves, from Pilgrim Creek in the Little Belt Mountains to the Mayhem Trail on the south shore of the Missouri River near Great Falls.
Discover a Long, Fascinating History
Despite the area's history as a leading paleontological zone—a wealth of dinosaur fossils have been found all over the region—our knowledge of Central Montana's rich history began with the Plains Indians who inhabited the area, pursuing bison across the rich terrain. The Lewis and Clark Expedition arrived in April 1805 in what would become known as Montana Territory, later poling and towing their boats up canyon rapids and a series of waterfalls on the Missouri River. From 1820 to 1880, the area was with rife with trappers and fur traders, and later drew in multitudes of gold miners and then settlers. The rest, as they say, is history—a history that lives on in the day-to-day lives of the area's residents.
Incredible Trail-to-Tavern Experiences
Montanans love to play just as hard as they work, and it's a common sight to see people come off the trail or river and head straight to a local pub or brewery, regardless of work clothes and trail dust. Share your fishing stories with the guy on the next stool at any of the bars or restaurants in Cascade. Triple Dog Brewing in Havre is the perfect stop after a day tackling trails or a long day road biking across the seemingly endless horizon on Montana's Hi-Line. Wherever you choose to recreate, rest assured there's a locally owned pub nearby, ready to help you relax and celebrate a day of adventuring.
Get Your Feet Wet
Central Montana is crisscrossed by several famous rivers, including the Missouri, the Smith and the Judith. Whether your tastes lean more toward fly-fishing, rafting, stand-up paddleboarding or merely a leisurely float down the river in a canoe, Central Montana's waterways offer a multitude of easy-access waterborne recreation. Looking for a truly unique adventure? Tackle a guided weeklong float down the famed Smith River (by permit only, but it's an amazing trip for those lucky enough to snag a spot).
Birding
More than 250 avian species call the 13 counties of Central Montana home. Thanks to the area's varied habitat—from the Rocky Mountain steppes to the sweeping grass and marshlands of the Great Plains — the region provides important habitat for migratory and resident birds. Visit Freezout Lake Wildlife Management Area during the spring migration to see tens of thousands of snow geese gather on the lakes.
Driving through Central Montana, you'll see an amazing variety of scenery and wildlife. Take time and read the historic roadside signs. Enjoy a short hike in the Helena-Lewis & Clark National Forest, take advantage of pull-outs off the highway. It's a beautiful place to visit—and a getaway you won't soon forget.
Written by Jess McGlothlin for RootsRated in partnership with Central Montana and legally licensed through the Matcha publisher network. Please direct all licensing questions to legal@getmatcha.com.