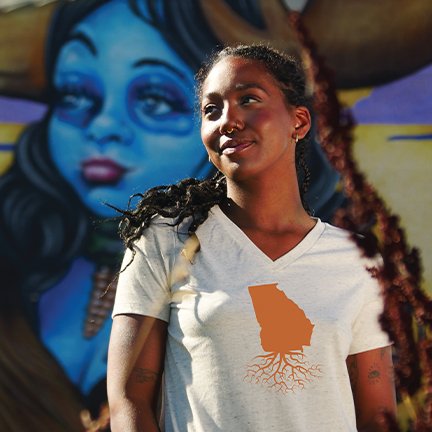 As the leaves begin to change and the air turns crisp, we usher in October—a month full of festivities, culminating in the beloved holiday of Halloween. While some are out picking the perfect pumpkin or planning elaborate costumes, why not take a moment to celebrate your roots? Introducing Wear Your Roots' (WYR) Fall Essentials Collection, specially designed to showcase your state pride while keeping you cozy and stylish.
Our Fall Essentials Collection offers a curated selection of clothing that captures the essence of autumn while proudly displaying state-specific designs. From comfy hoodies to stylish tees, we have something for everyone. Choose from a vibrant palette of autumnal colors like brick, heather dust, and saddle. 
Unisex Sponge Fleece Sweatshirt:
Stay warm and comfortable with our Unisex Sponge Fleece Sweatshirt. Made from a soft blend of cotton and polyester, this sweatshirt offers a relaxed fit without compromising on style. The state-specific designs allow you to wear your roots proudly.
New WYR Subtle Tee:
For a more understated look, the WYR Unisex Crewneck Subtle Tee is the perfect choice. This tee offers a clean, simple design with a small state logo, allowing for easy pairing with other items in your wardrobe.
Styling Tips:
Both these items can be effortlessly styled with other WYR products. Consider pairing the Unisex Sponge Fleece Sweatshirt with our classic Smokey Bear Beanie to complete a look. The WYR Men's Crewneck Subtle Tee goes great with our state-themed caps.
At the heart of WYR is the unique design that represents each state on our apparel. These aren't just random graphics; they are symbols that resonate with the memories of your home state. When you wear a piece from WYR Clothing, you're not just wearing a garment—you're wearing a piece of home.
Our customers love the Fall Essentials Collection! Here's what some of them have to say:
"I absolutely adore my Unisex Sponge Fleece Sweatshirt. It's so cozy, and I love showing off my Michigan roots!" - Emily S.
"The Men's Crewneck Subtle Tee is my go-to shirt for casual days. Love it!" - Mark T.
As October unfolds with its array of colors and celebrations, don't miss out on a chance to celebrate your roots. Our Fall Essentials Collection offers just the right mix of comfort and style to make your October and Halloween memorable.
Ready to find your perfect state-themed apparel? Browse through our Fall Essentials Collection today and make a statement this October. Don't forget to check out our Find Your State collection for more options. Share your WYR style with us on social media using #WearYourRoots!