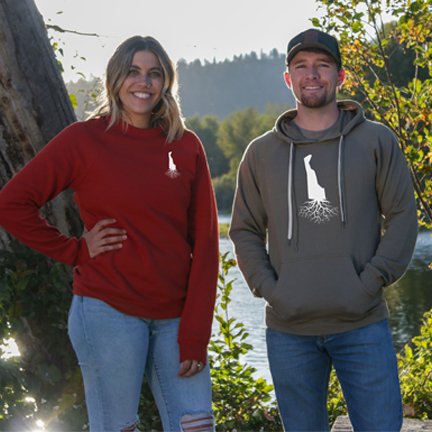 Nestled on the East Coast, Delaware may be small, but it's brimming with charm and quirks that set it apart. As the first state to ratify the Constitution, it's got historical clout, but that's just the start. Let's dive into some fun facts that make Delaware, well, delightfully Delawarean, while showcasing some standout pieces from Wear Your Roots that let you wear that pride on your sleeve.
A State of Firsts and Fun
Delaware isn't just a state; it's a state of mind. Here are some facts to tickle your fancy:
Delawareans are outnumbered at home — not by people from other states, but by chickens! With a chicken-to-human ratio of 200:1, it's safe to say that Delawareans live among celebrities of the poultry world​​.

It's the land of firsts — the first to join the Union, the first to have a log cabin, and the first to say, "Yeah, we think this Constitution thing is a good idea." Talk about being a trendsetter​.

Did you know that Delaware is a giant in the small states league? It's the second smallest but also the sixth most densely packed with personality (and people) per square mile in the US​​.
Wear Your Roots: Delaware Style
Now, let's get to the real cozy stuff. Wear Your Roots Clothing has a Delaware collection that's as unique as the state itself. Here are three picks that are sure to be conversation starters:
Delaware Fresh Catch Tee: For those who love the water as much as a good seafood platter, this tee is a tribute to Delaware's bountiful waters. It's comfy, it's casual, and it's perfect for a day out on the Rehoboth Bay or a casual brunch in Wilmington​.
Delaware Unisex Long-Sleeve Tri-Blend Crew Tee: Whether you're touring the historic streets of Dover or enjoying a night in, this long-sleeve tee is your go-to. It's a blend of history and modern comfort, much like Delaware itself​.
Delaware Crewneck Subtle Tee: Subtle in style but loud in spirit, this crewneck is for those who carry Delaware in their heart. It's understated, stylish, and says, "I know where I'm from," without you having to say a word​.
The Wrap-Up
From being the birthplace of the scrumptious broiler chicken to hosting a festival with a world-record-breaking 10-foot frying pan, Delaware might be tiny, but its stories are huge. And with Wear Your Roots Clothing, you can tell those stories through threads that are as comfy as they are full of character.
So, whether you're a lifelong Delawarean or just passing through, remember: every Wear Your Roots garment you don isn't just a piece of clothing. It's a piece of Delaware itself, a wearable story, and a way to connect with the quirkiest state in the Union.
Check out the full Delaware Collection at Wear Your Roots and find your perfect fit of Delaware pride today!